Warning: This challenge is still active and therefore should not be resolved using this information.
Aviso: Este reto sigue en activo y por lo tanto no se debería resolver utilizando esta información.
Introducción
Resumidamente, esta técnica consiste en ocultar información en el bit menos significativo de cada uno de los píxeles de una imagen, consiguiendo así que el cambio realizado sea invisible al ojo humano. El problema de esta técnica, es que la información oculta puede obtenerse fácilmente si esta no se ha codificado previamente o si no se sigue un patrón concreto a la hora de ocultarla.
Desde la web del reto nos avisan de que esto es un simple truco pero espectacular. Nos animan a descargar una imágen y a encontrar la solución oculta.
Aprovecho este reto para presentaros una herramienta vital al enfrentaros a ciertos retos sobre esteganografía, steganabara.
Steganabara tiene dos apartados muy interesantes, uno es «color table» y otro «bit mask«, hoy veremos en acción a «bit mask».
No os preocupéis por la solución ya que cambia para cada usuario y sesión.
Buscando la solución oculta
Abrimos steganabara y empezamos a trastear con bit mask.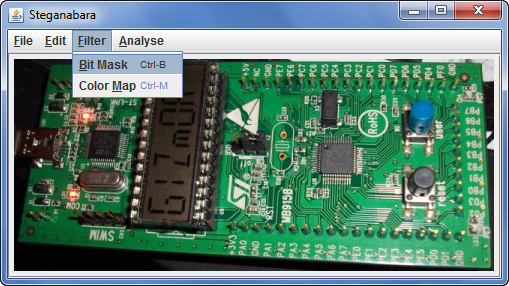 Al poco tiempo ya vemos que vamos bien encaminados.
Finalmente no nos cuesta dar con la solución.
Links